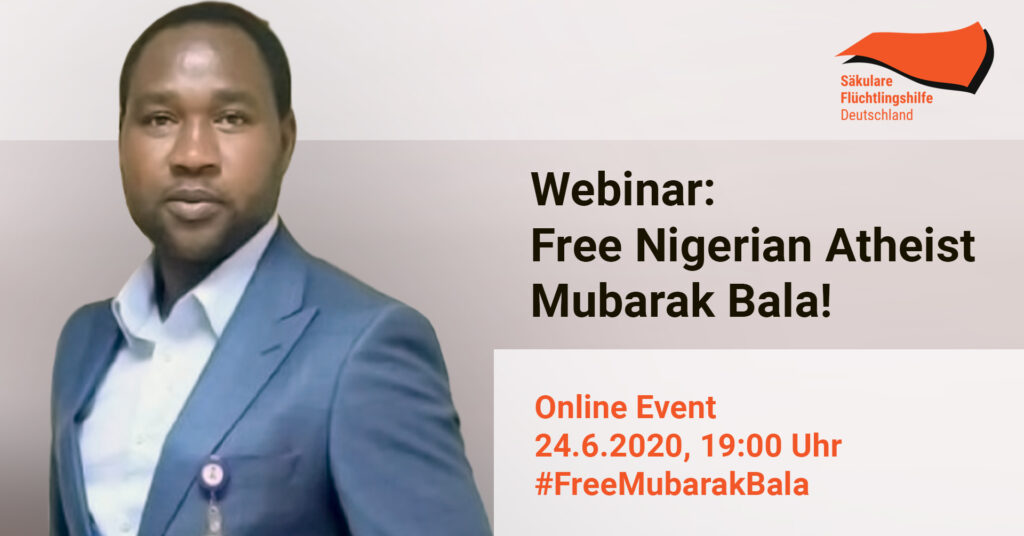 Webinar about the situation and persecution of atheists in Nigeria and the case Mubarak Bala. Nigerian activist Dr. Leo Igwe in conversation with Dr. Felix Riedel.
Register here: event@atheist-refugees.com
🎦 Live-Stream https://www.youtube.com/watch?v=zP5wCbLLlnM
Mubarak Bala has left Islam in 2014 and declared himself an atheist. For this he was forced to undergo psychiatric treatment. Only after massive international pressure Mubarak was released. Since then he has contributed to the development of the atheist movement and comments with sharp irony and a pragmatic sense of reality the religious developments of the day in Nigeria. In April 2020 Mubarak Bala was arrested without giving any reasons. The police refuses information and contact. They justify this with Corona and the protection of Mubarak. This is unlikely, as Mubarak, according to the police, was transferred to Kano, the stronghold of Islamism.
Dr. Leo Igwe is an internationally known atheist from Nigeria and will report about the situation. The focus will be on the opportunities and conditions of atheistic Enlightenment in sub-Saharan Africa.
Dr. Felix Riedel from the organization "Help for Witch Hunting Refugees" will host the discussion.
The event and discussion will be held in English and translated into German. A German discussion part will be offered afterwards.
Donations for Mubarak Bala https://www.betterplace.org/de/projects/82227