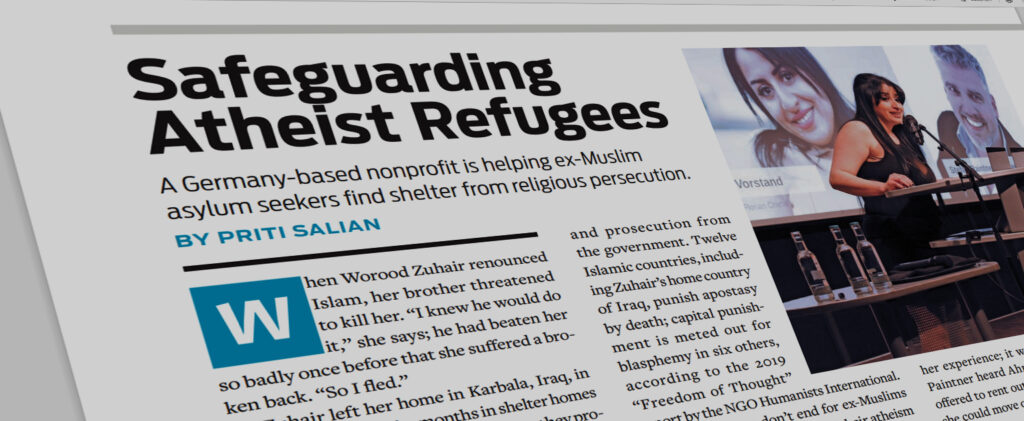 The Field Report of the Stanford Social Innovation Review reports about the work of the Säkulare Flüchtlingshilfe e.V. It describes the difficult situation of atheist refugees in Germany.
On top of the personal crises that come with what they have experienced and their new reality of life, there is the threatening situation in the initial reception centers. There, they continue to be exposed to the same Islamists from whom they seek protection here. Author Priti Salian illustrates the work of Säkulare Flüchtlingshilfe (Atheist Refugee Relief), an organization that assists people from this group, which is hardly perceived by the general public, in starting their new lives and ensures their safety.
This article shows a growing interest in the new phenomenon of atheism in the Islamic world. Those who study this topic quickly notice that there are more and more activists internationally who dare to speak openly against Islamist ideology. In addition, it can be observed that the popularity of activists in Arabic-speaking online media has increased steadily in recent years.
We hope that this development gets more attention from the European public. It is important to integrate these new activists more strongly in the integration work, so that a free and tolerant life together is guaranteed in the future.
Priti Salian is a Bangalore-based journalist who has reported from India, Germany, and Uganda on human rights, social justice, and culture, with a focus on disability, gender, and aging. Her writing has been published by the BBC, the Guardian, National Geographic, Devex, CNN, and other outlets.
Der Stanford Social Innovation Review (SSIR) wird vom Stanford Center on Philanthropy and Civil Society an der Stanford University herausgegeben.
The Stanford Social Innovation Review (SSIR) is published by the Stanford Center on Philanthropy and Civil Society at Stanford University.